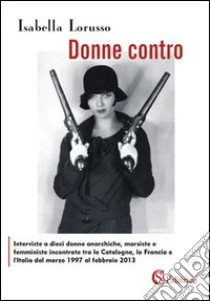 Donne contro: Interviste a dieci donne anarchiche, marxiste e femministe incontrate tra la Catalogna, la Francia e l'Italia dal marzo 1997 al febbraio 2013.
Questo libro è un viaggio che dura diciassette anni; inizia a Barcellona nel 1997 e finisce a Mosca nel 2013. Si tratta di una raccolta di interviste realizzate a donne che hanno vissuto la guerra civile spagnola e che appartengono a gruppi politici diversi: sono anarchiche, marxiste, antifasciste o libertarie.
Unite nella differenza e divise negli ideali, queste donne hanno lottato per lasciare un mondo migliore di come l'hanno trovato.
Interviews with ten women and feminist anarchist, Marxist encounter between France and Catalonia, Italy from March 1997 until February 2013.
This book is a journey lasting seventeen years; starts in Barcelona in 1997 and ends in Moscow in 2013. This is a collection of interviews with women who have experienced the Spanish civil war and who belong to different political groups: anarchist, libertarian or Marxist, antifascist are.
United in difference and divided in the ideals, these women have struggled to leave a better world than how they found it.
Edito da CSA Editrice, 2013
https://promosaik.org/wp-content/uploads/2016/09/donne-contro.jpg
301
210
promosaik
https://promosaik.org/wp-content/uploads/2020/02/Promosaik_brandwordmark.png
promosaik
2016-09-02 08:15:42
2016-09-02 08:15:42
Donne contro. Di Isabella Lorusso